3rd CPEC Media Forum, Islamabad
Written by: Staff Report
Posted on: November 28, 2017 |

Comments | 中文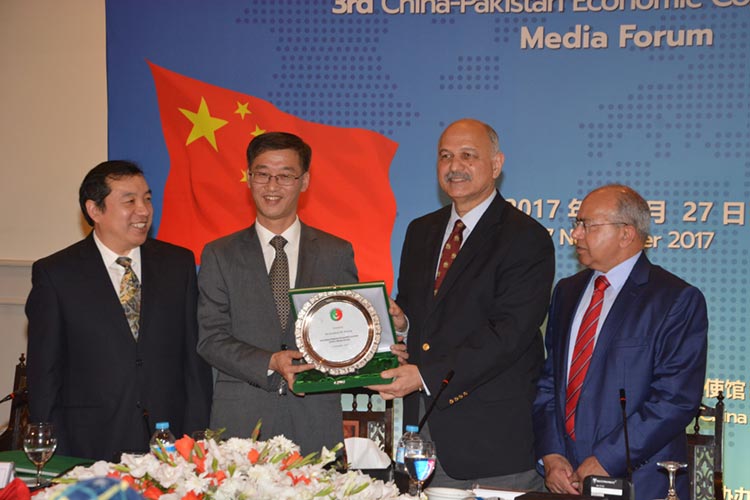 Chairman PCI, Senator Mushahid Hussain Sayed, presenting a memento of appreciation to H.E. Mr. Yao Jing, Chinese Ambassador to Pakistan
The third China-Pakistan Economic Corridor (CPEC) Media Forum was held in Islamabad on 27th November, 2017. The event was organized by the Pakistan-China Institute (PCI), led by Senator Mushahid Hussain Sayed, in collaboration with the Chinese Embassy in Pakistan. The third media forum was arranged to promote news exchanges and collaborative partnership between the media personnel of the two countries.
In his welcoming address, Senator Mushahid Hussain Sayed congratulated the Chinese leadership for successfully holding the 19th National Congress of the Communist Party of China. While highlighting CPEC significance, he said CPEC was launched at a time when no other country of the world was ready to invest in Pakistan. He announced that PCI will soon hold media workshops at the regional levels, to draw attention to the far-reaching benefits of CPEC.
While speaking as the chief guest, the newly designated Chinese ambassador to Pakistan, H.E. Mr. Yao Jing said that CPEC is a priority for Chinese leadership, and he would ensure it gets implemented in letter and spirit. H.E. Yao Jing, who was delivering his first speech at a public forum after his appointment as the new ambassador, said he is proud to have been posted in Pakistan for the third time.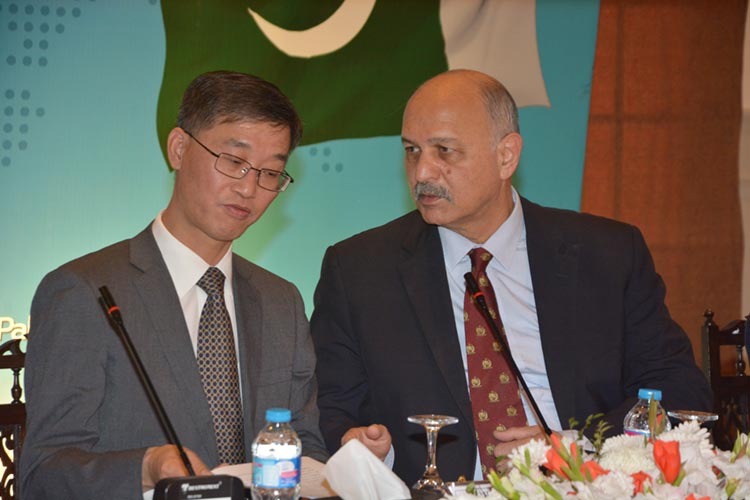 H.E. Mr. Yao Jing, Chinese Ambassador to Pakistan and Senator Mushahid Hussain, Chairman PCI
With regards to media, he said that he intends to maintain close and regular interactions with them. He proposed that media representatives should be invited to visit CPEC projects, enabling them to see its implementation, and the socio-economic impact on local people. Jing noted that Pakistani media has always been positive towards China. The embassy of China, he added, will keep facilitating the media in promoting Sino-Pak friendship.
In his keynote address, the Chief Executive of China Economic Net, Mr. Wang Xudong, said that he hopes the forum will continue promoting media-to-media relationship, and gave several recommendations to make media cooperation more effective.
Senator Azam Swati and Senator Lt. Gen (Retd) Abdul Qayyum also addressed the audience during the inaugural ceremony. Senator Azam Swati noted that CPEC provides an extraordinary opportunity for the two countries to strengthen their socio-economic partnership, and termed CPEC "the mother of economic revival in Pakistan." Senator Abdul Qayyum noted that after the 1965 war, when Pakistan was facing restrictions from the West, China stepped forward to help us strengthen our security potential. CPEC is a game-changer, which will uplift the economy of the whole region, he added.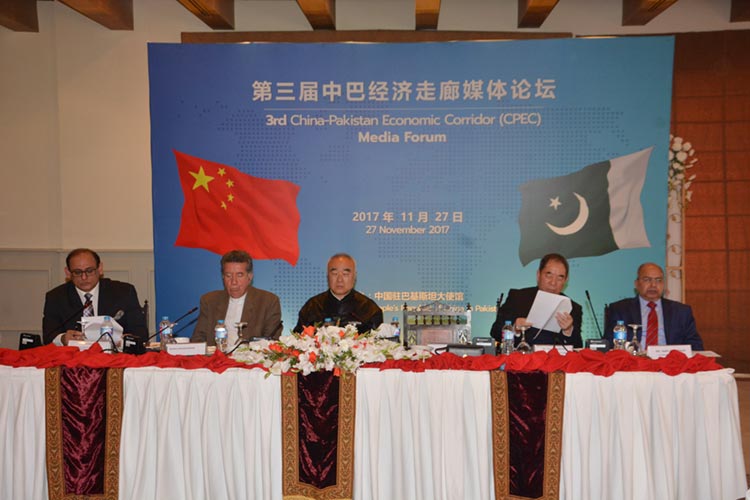 (L-R) Mr. Hassan Daud, Senator Afrasiab Khattak, Prof. Li Xiguang, Prof. Tang Mengsheng and Mr. Hafiz Tahir Khalil at the session 'Corridors, Culture and Connectivity.'
The second session titled, "Corridors, Culture and Connectivity," was addressed by renowned academics from China, Professor Tang Mengsheng of Peking University and Professor Li Xiguang of the Tsinghua University, Beijing. They elaborated upon the importance of cultural connectivity in the context of CPEC. Further on, Senator Afrasiab Khattak emphasized the need for promoting close trade and economic ties with regional states, especially Iran and Afghanistan. The Coordinator CPEC from the Ministry of Planning, Development and Reforms, Mr. Hassan Daud gave an insightful presentation on the progress of projects under CPEC. He also shed light on the latest Joint Cooperation Committee, held on 21st November in Islamabad.
The third session, "Promoting an Information Corridor for Strengthening CPEC," included eminent journalists of China, Mr. Meng Xianglin, Chief Editor of People's Daily, and Ms. Wang Lin from China Business News. Ms. Wang Lin said that CPEC is changing Pakistan's image abroad, and emphasized that the media of both countries should encourage direct reporting, instead of relying on second-hand news. Other prominent speakers for the session were Dr. Shahid Rasheed, the Executive Director of CPEC Centre of Excellence, PIDE, and Mr. Asif Salahuddin, the Editor in Chief of Independent News Pakistan.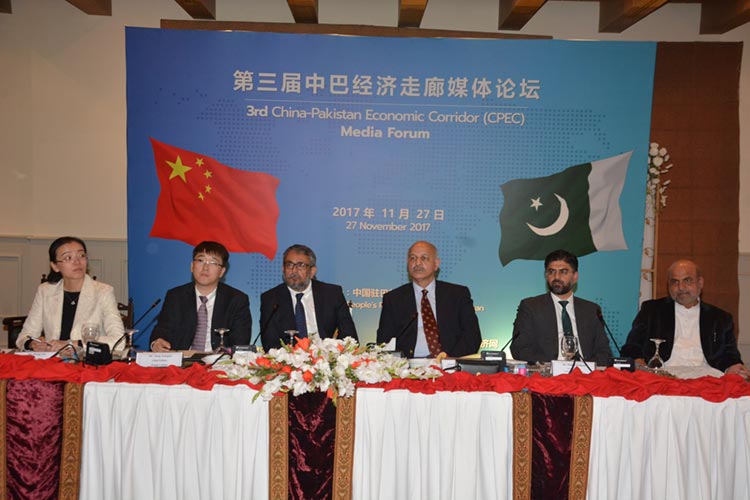 (L-R) Ms. Wang Lin, Mr. Meng Xianglin, Mr. Asif Salahuddin, Senator Mushahid Hussain, Dr. Shahid Rasheed and Mr. Shahji Gul Afridi at session 'Promoting Information Corridor for Strengthening CPEC.'
The session was followed by a discussion between the panelists and Pakistani journalists from the audience. Answering a question, the Deputy Chief of Mission of the Chinese Embassy, Mr. Zhao Lijian stated that the Pakistani Government made a beneficial deal to acquire 9 percent share of the Gwadar port, and when the port starts earning profits after nine years, Pakistan will get 15% income.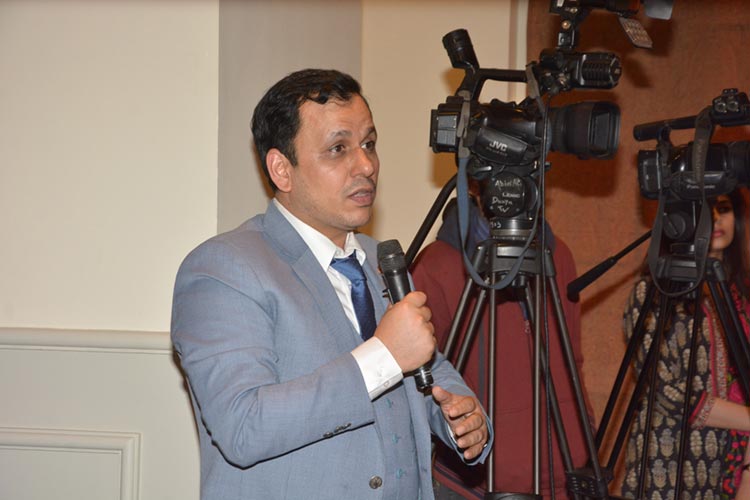 Pakistani journalist, Mr. Waseem Abbasi, participating in the discussion
In the concluding session, Senator Mushahid Hussain Sayed launched two research reports of PCI on 'Facts Vs Fiction of CPEC' and 'The Impacts of CPEC on the Energy Sector.' The event was attended by eminent parliamentarians, journalists, representatives of think-tanks and representatives of Chinese corporations.
You may also like: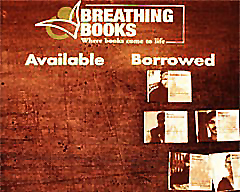 Breathing Books - Where Books Come to Life
(February 16, 2018)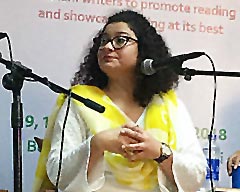 The 9th Karachi Literature Festival
(February 15, 2018)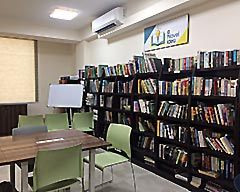 A Novel Idea - Book Swapping Libraries in Karachi
(February 01, 2018)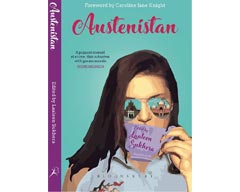 Book Review: Austenistan
(January 25, 2018)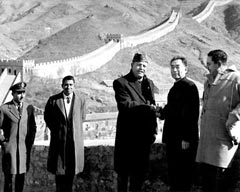 From People to People, Pakistan-China Relations since 1965
(December 12, 2017)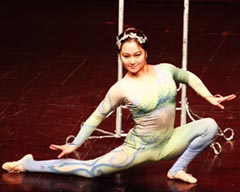 Rhythm of Liaohai Gala at PNCA, Islamabad
(December 08, 2017)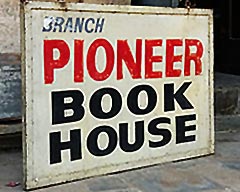 Pioneer Book House, Karachi
(November 24, 2017)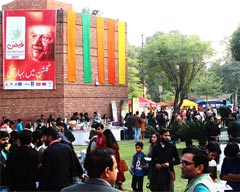 Faiz International Festival 2017
(November 22, 2017)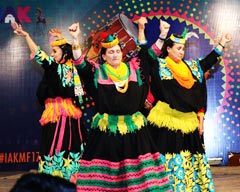 Lok Mela comes to Karachi
(November 17, 2017)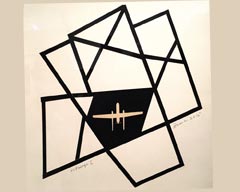 Writing Partition in Urdu
NYU's Urdu Conference
(October 13, 2017)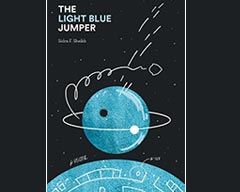 Book Review: The Light Blue Jumper by Sidra F. Sheikh (First Pakistani science fiction novel)
(October 02, 2017)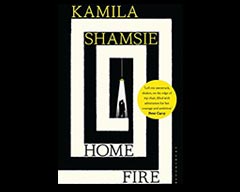 Book Review: Home Fire by Kamila Shamsie
(September 07, 2017)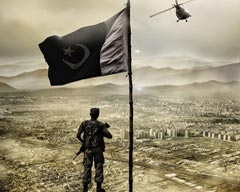 Pakistan's Armed Forces face challenges in 2017 with a New Confidence
(September 05, 2017)